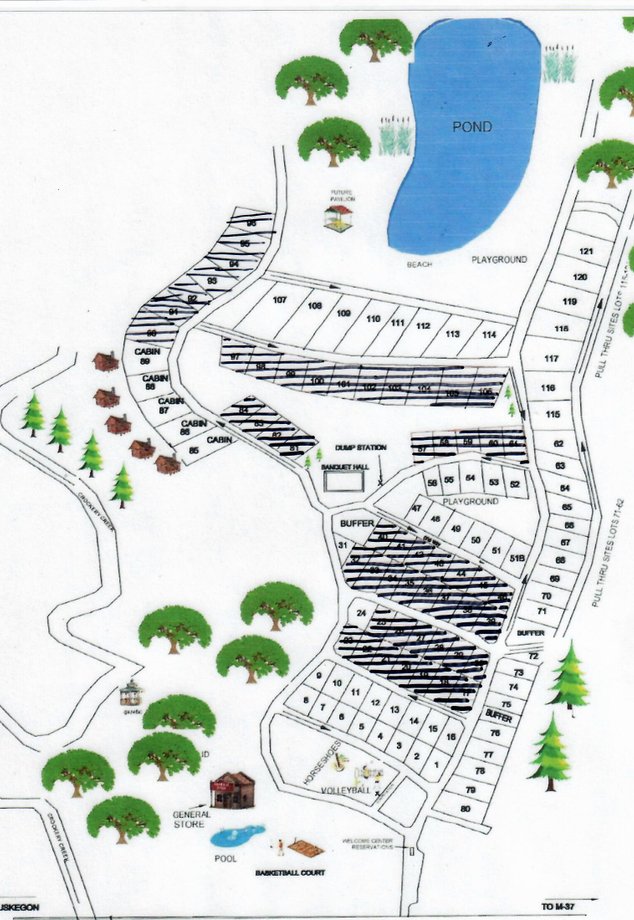 Reminder: If you need to make the map bigger press CTRL button and the + button at the same time!
Covid-19 Update:
First of all, we would like to thank everyone for your cooperation during this crazy time we're all going through.
We FINALLY have an opening date!! With the stay at home order lifted we are opening Friday, June 12th. We do have some changes that will be taking place.
CHECK-IN: We will not be opening the Welcome Center this season for check-ins. What we will do, is contact everyone to pay ahead of time. If you cannot pay by card, we will ask you to set up a date prior to your arrival to make the payment. We will be e-mailing you the week before you're set to come in to make sure you get the map, rules, and gate code. If you do not have an e-mail, we will be leaving you an envelope in the basket outside of the welcome center with your name on it. That'll have everything you need in it to camp.
FIREWOOD: At this time, everyone is able to bring in their own firewood.
POOL: The pool will be opening, we ask that everyone bring in their own chairs though. We will not have chairs out by the pool.
PLAYGROUNDS: all of the playgrounds will be open!
STORE: The store will remain closed until further notice (we do plan on opening eventually with a few items in it. But as you know, plans don't always go accordingly.) The game room will not be opening at all.
BANQUET HALL: We are keeping the banquet hall closed until further notice.
BATHROOMS: They will remain closed for the entire season. So you will need to have restrooms inside of your campers.
CABIN & TENT LOT: We will not be taking reservations for these at all this season. If you already have either of these booked for any time during the season we will refund you.

As always, please continue to stay safe and practice social distancing. If you have any questions you can contact us:
email: crockerycreekrvpark@gmail.com
phone: 231-853-0221
or via facebook messenger.

Thank you for your cooperation and we can't wait to have everyone back in the park!